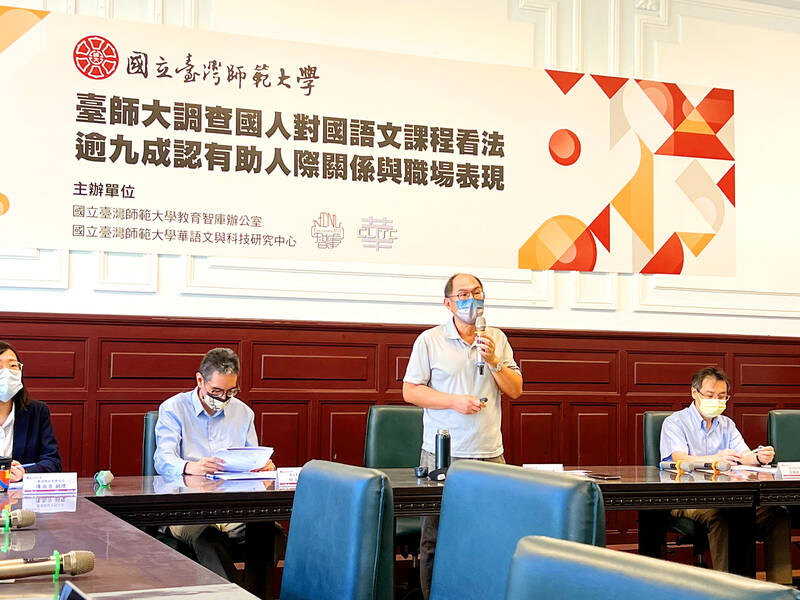 Study shows benefits of learning Mandarin
By Liu Tzu-hsuan / Editor, with CNA
More than 90 percent of Taiwanese consider learning Mandarin to be useful for work and interpersonal relationships, according to a survey released by the Chinese Language and Technology Center at National Taiwan Normal University (NTNU).
The survey, conducted Tuesday and Wednesday, collected 1,092 valid samples from Taiwanese between the ages of 21 and 60, the center said Thursday.
The study also used reports on classical Chinese education published on Professional Technology Temple (PTT), the country's largest online bulletin board system, he added.
The survey was made public after the university's admissions committee announced last month that subjects from the general academic aptitude test were to be included in the admission requirements of each university department.
The test includes six subjects: Mandarin, English, Grade A Math, Grade B Math, Social Studies, and Science.
However, some universities – including a number of engineering departments at National Taiwan University – have decided to exclude applicants' marks for Mandarin when reviewing their qualifications.
The project's lead researcher, Chung Chung-hsien (鍾宗憲), who is also a professor in NTNU's Chinese department, said Thursday that the topic of Mandarin has sparked a lot of discussion.
Mandarin classes are often criticized as conservative, especially since electronic devices have changed the function of language and the way people interact, he said, adding that opinions for and against Mandarin classes Mandarin exist.
The survey found that 76% of respondents rated the Mandarin lessons as "very good" or "good"; while 82.7% of respondents thought the Mandarin teachers were "very good" or "good", he said.
In addition, 91.7 percent, 88.5 percent and 91.8 percent of respondents believe that Mandarin lessons have a good influence on career, life planning and interpersonal relationships, respectively, he said. declared.
One of the main goals of Mandarin lessons is to facilitate communication by teaching the essence of the language, he said.
Respondents over the age of 30 strongly supported the Mandarin lessons, indicating that the teaching materials containing a large proportion of Classical Chinese, familiar to people in the school curriculum of this age group, do not hinder the ability to learn and apply the language, he said.
His comment alluded to the decision of the Ministry of Education's Curriculum Review Committee in 2017 to reduce the proportion of classical Chinese content in high schools to between 35% and 45%, down from 45% and 65%; the change took effect in 2019.
Chinese professor Hsu Kuo-neng's NTNU department (徐國能) said departments can only consider four subject scores as admission criteria, so a compromise would be inevitable.
However, some departments initially decided to exclude Mandarin but later reinstated it in their assessment criteria, he said.
Language teaching is linked to adaptability, competitiveness and quality of life for students, and therefore needs to be reconsidered and adjusted, he said.
Comments will be moderated. Keep comments relevant to the article. Remarks containing abusive and obscene language, personal attacks of any kind or promotion will be removed and the user banned. The final decision will be at the discretion of The Taipei Times.