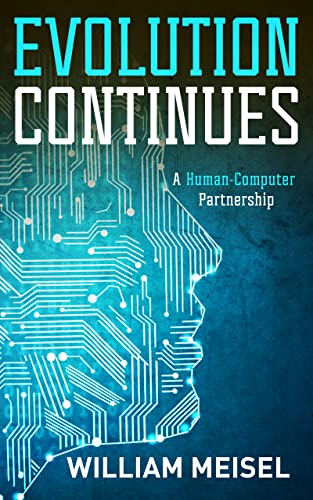 New book claims humanity's connection to computers is the next step in evolution
"Evolution Continues: A Human-Computer Partnership" by William Meisel has been released worldwide. This exploratory non-fiction work confronts the idea that ever-increasing computing power poses a threat to the workforce – and humanity as a whole – by examining the role that technology plays in social development and human evolution. Meisel argues that computers will increasingly become partners, even to the point of changing what it means to be human.
The book reviews the growing connection between people and computers through human language, including digital assistants like Siri and Alexa, noting that conversation is one of the most direct ways to interface with technology, and has a way to "humanize" devices. Entire generations are now growing up with smartphones in their hands, and this constant connectivity serves to increase their intelligence and even to become an extension of the brain – "augmented intelligence".
Meisel examines the fundamental role that technology has played in human evolution and the development of society, noting that computers are not only the most impactful tool we use today, but also that overall computing power growing at a much faster rate than before. -the evolution of technologies such as the automobile and electricity. Meisel claims that the impact of artificial intelligence and deep neural networks is the result of this computing power crossing a threshold that has made AI economically feasible, and we can expect more.
Through careful examination of current and emerging innovations, as well as some predictions about the future of the role computers will play in everyday life, from proximity to digital assistants to skepticism about the metaverse, Meisel shows that computer power is not a threat. If we consider computers as partners, they can improve humanity and potentially change the very nature of our species.Evolution continues: a human-computer partnership (ISBN: 9798985794212 / 9798985794229) can be purchased from retailers worldwide, including Barnes and Noble and Amazon. The paperback sells for $14.95 and the hardcover for $21.95. Bulk orders are available through Ingram.
From the back cover:
Human evolution has always been about our tools, and computer technology is the most impactful tool humans have ever invented. Today, digital technology drives everything from PCs to cell phones, thermostats to automobiles. We search the web for a variety of information, entertainment and services. The rapid increase in computer power is driving revolutionary technologies such as artificial intelligence, and more are to come. This conversational connection to growing computing power will accelerate a human-computer partnership that will impact what it means to be human. This book examines the full impact of these trends, including computers becoming essentially workers supporting a growing population beyond retirement age.
About the Author:
William Meisel, PhD, is the author of several books, including a technical book on machine learning and computational intelligence intended for the general public. He began his career as a professor of electrical engineering and computer science at USC. His professional experience includes director of the IT division of a defense company and president of a voice recognition company, both for a decade.
About MindStir Media:
MindStir Media LLC is a award-winning book publisher. To learn more about publishing a book with MindStir Media, visit http://mindstirmedia.com or call 800-767-0531.
Media Contact
Company Name: MindStir Media LLC
Contact person: Jen McNabney
E-mail: Send an email
Call: 800-767-0531
Address:1 New Hampshire Avenue Suite 125
City: Portsmouth
State: NH
Country: United States
Website: https://mindstirmedia.com/