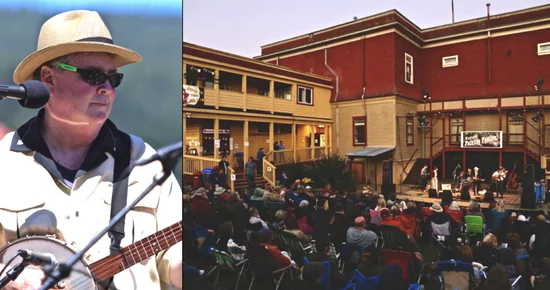 (AUDIO) HUMBOLDT HOLDING UP: Patrick Cleary on the Returning Folklife Festival, his time at the Humboldt Area Foundation and his new Fancy Hip | Lost Coast Outpost
(AUDIO) Patrick Cleary holding on
The summer of Humboldt joys return continues this week with the first edition of the Humboldt Folklife Festival taking place in Blue Lake since the fun-loving pandemic made gatherings with the community virtually impossible. Starting Thursday, Dell'Arte's Rooney Amphitheater will once again host a collection of the county's finest musicians. And if you think a recent hip replacement operation is going to keep longtime festival organizer Patrick Cleary from tapping his foot (or jumping on stage), well, you don't know Patrick.
In this week's episode of Humboldt Holding Up — the Lost Coast Outpost's fiery lo-fi podcast experience – Cleary shares what it means to him to once again be able to provide a forum for local artists to show off their stuff and discuss the various acts set to appear this year. We also discuss his time as head of the Humboldt Area Foundation and (full disclosure) Locomotivethe parent company of Lost Coast Communications.
Click on the audio player above or head to Apple Podcasts to hear Patrick chat with Locomotive's Stephanie McGeary and Andrew Goff and/or be sure to check out the list below of other locals we've convinced to Zoom with us.
PREVIOUS HUMBOLDT HOLDING GUESTS: