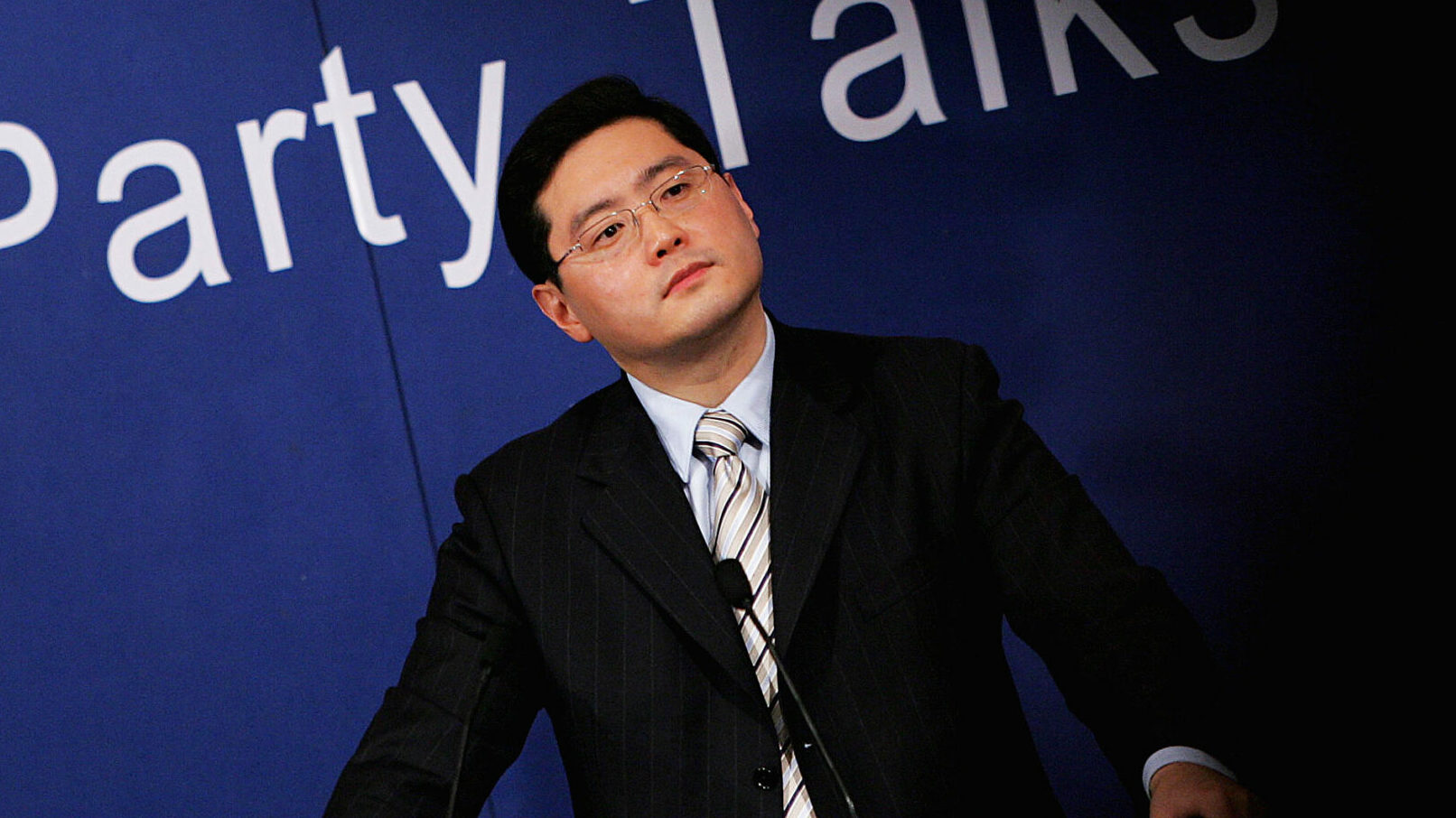 Aspen World War 3 Rumblings
The Aspen Security Forum is the kind of national security conference where you might ask Richard Moore, the completely unguarded leader of MI6, to step aside so you can access the water cooler. It's the kind of place where, at happy hour, in a sunny meadow high in the Rockies, you can, bottle of beer in hand, buttonhole mike rogers when he was still head of the NSA, or coin Mikk Marranthe head of the Estonian intelligence services, while holding food packaging on a biodegradable plate, asking what kind of information Vladimir Poutine is really deal with war. (And reader, I did all three.)
It's the kind of forum where the former secretary of defense Robert Gates passes by you on a path, alone, looking not at the mountains surrounding the forum, but at the sidewalk in front of it. It's the kind of place where New York Times journalist David Sangger takes its administrative sources fly fishing between the panels. This is where you can catch Glenn Simpsonthe man who ordered the Steele Dossier, drinking white wine and grumbling familiarly at a very friendly David Ignatiusthe Washington Post great, about another trial donald trump filed a complaint against him. In fact, the Aspen Security Forum is so amicably disconcerting that each year the multi-day meeting kicks off with dinner at Jane Harman's cottage at which the disconcerting avuncular John McLaughlinthe former Deputy Director of the CIA, usually entertains the guests – an array of national security decision makers, thinkers and journalists – with magic tricks.
Yes, everyone is friends in Aspen. Panels are not panels here. They are fireside chat (in the middle of the day, in the middle of summer, not a flame in sight). It is a closed space and difficult to access, both physically and metaphorically. You can't fly directly from Washington, where most people fly from, and getting this puzzle of flights to line up takes a bit of finesse. (Same Victoria Nuland, the powerful undersecretary for political affairs, had to relocate her panel after several of her flights were canceled and she had to stay overnight in Dallas.) Only select national security personnel receive invites or receive press passes. It's an extremely clubby little group. We have all known each other for years and years, crossing paths at conferences, on reporting trips and in various briefing rooms. If there are quarrels or rivalries, they fade away in the thin mountain air.
That's why the Chinese Ambassador's performance landed like a tactical nuclear bomb. Unlike the other guests, Gang Qin, Beijing's envoy to the United States, never smiled or joked. He gave up on niceties or any semblance of diplomacy and proceeded to quietly but fiercely eviscerate US policy on China. He accused Joe Biden to foment a new Cold War with his rhetoric, which, Qin warns, will "build a new Berlin Wall" and "will have unbearable consequences for the world." He accused Washington of "disinformation, misinformation, lies and malicious attacks". He rejected the idea that the document Xi Jinping and Vladimir Poutine signed on February 4 was an alliance ("It shows the common opposition of the two countries to the mentality of the cold war") and declared that the war in Ukraine is not so black and white. ("The Ukraine issue has historical and practical complexities," Qin said. "It's a long story.") He called for "an immediate ceasefire" ("sit down, calm down yourself and find a way out of [sic] situation") and criticized the United States for its "double standard": defending the territorial integrity of Ukraine but attacking that of China (i.e., insisting that Taiwan is a separate).
He didn't stop there. Asked about Beijing's genocide against Uyghurs in the Xinjiang region, Qin said it was a counter-terrorism operation preventing the establishment of another Islamic state. After a question from deeply knowledgeable and skillful people Ed Luceof the FTon what the failure of the "one country, two systems" policy in Hong Kong meant for Taiwan, Qin shocked the largely American public by quoting abraham lincoln"A house divided against itself cannot stand." In this twisted analogy, Xinjiang, Taiwan, and Hong Kong were Alabama, South Carolina, and, say, Tennessee trying to break away from the Union, and President Xi was fighting a noble battle to keep his country together. and free from all human bondage.
The latter really attracted people's goats. Because if there is one thing that cannot be taken away from even the most jaded American foreign policy elites, it is their absolute sincerity. They believe in American ideals, in the supremacy of American values, in the good that America offers the world, even if it sometimes clumsily manages the delivery. (And to be fair, if the choice is between what the US government and the Chinese government are offering, it's sort of a no-brainer.) That the representative of a totalitarian, repressive, and genocidal communist state invoke an American saint on America's soil to justify the CCP's policies was a bridge too far. (Two septuagenarians who sat next to me were absolutely outraged.)
But that wasn't just the substance of what Qin said. It was the way he said it. He had come to a forum where everyone was friends and used his fireside chat to berate and attack them. Where everyone was collegial and cheerful, even when issuing stern warnings about, say, the global grain crisis, Qin was hostile and aggressive. Here, China's wolf diplomacy was on full display, its fangs bared and glistening in the Aspen sun.
---
Third World War?
I captured the panel on the big screen in the Google Cloud tent set up in the resort's central grassland, where Russian hands like Susan Glasser, Pierre Boulanger, Fiona's Hilland the Rockefeller Foundation Eileen O'Connor were all watching during lunch. Not as much as it ate. We all sat gaping or pointing at one blow or another, like the vigorous rage with which Qin said the "one" in "a Chinese policy." Some DOJ officials, including Matt Olsonresponsible for the January 6 investigations, also looked on, amazed.
At the end of the fireside chat, we all shared our impressions, which ranged from "Holy shit" to "Is this the prelude to World War III?
We weren't the only ones to have had this reaction. For the next two days, as the Chinese entourage of young Foreign Ministry employees strolled around the Aspen Meadows Resort, everyone was talking only about Ambassador Qin. His performance was referenced in nearly every panel and fireside chat that followed. Every off-site dinner and every on-site lunch started and ended with an iteration of "Holy shit, did you hear the Chinese ambassador?" On the way back to Washington, while I was waiting for my bag on the tarmac in Denver, two women who were also from the forum asked me the same thing.
It wasn't that people were mad at Qin. They were scared. Essentially, he showed up at the high school prom and pulled a Carrie. Everyone was ready to talk about Russia and Ukraine, gas and grain, but Ambassador Qin arrived to make sure China got an equal bill. They came prepared to talk about how to fend off Russia without starting World War III, but Qin wanted them to know that it wasn't Moscow that would bring that thunder, it was Beijing.
Even as he castigated the Americans for wrongly making China a threat, he made sure everyone understood that China would defend its interests and do so with ferocity. Doing so at an elite symposium like the Aspen Security Forum was a smart and effective way to get the message across that China is angry and refuses to be ignored. What better way to strike up a conversation than to attend a gathering of 200 of the administration's top officials, thinkers, and journalists who cover them, and tell them as bluntly and unequivocally as possible? That, it seems, was really the mission. And Qin completed it brilliantly.
When I got home this weekend, I was chatting with a source, a Republican foreign policy insider who is close to people like Henry Kissinger, who asked how the Forum went and what was said there. I told him that Qin was the big favorite, if you could call it that. "That's awesome," the insider said, much to my surprise. "Because the sooner we wake up, the better our chances of avoiding war."