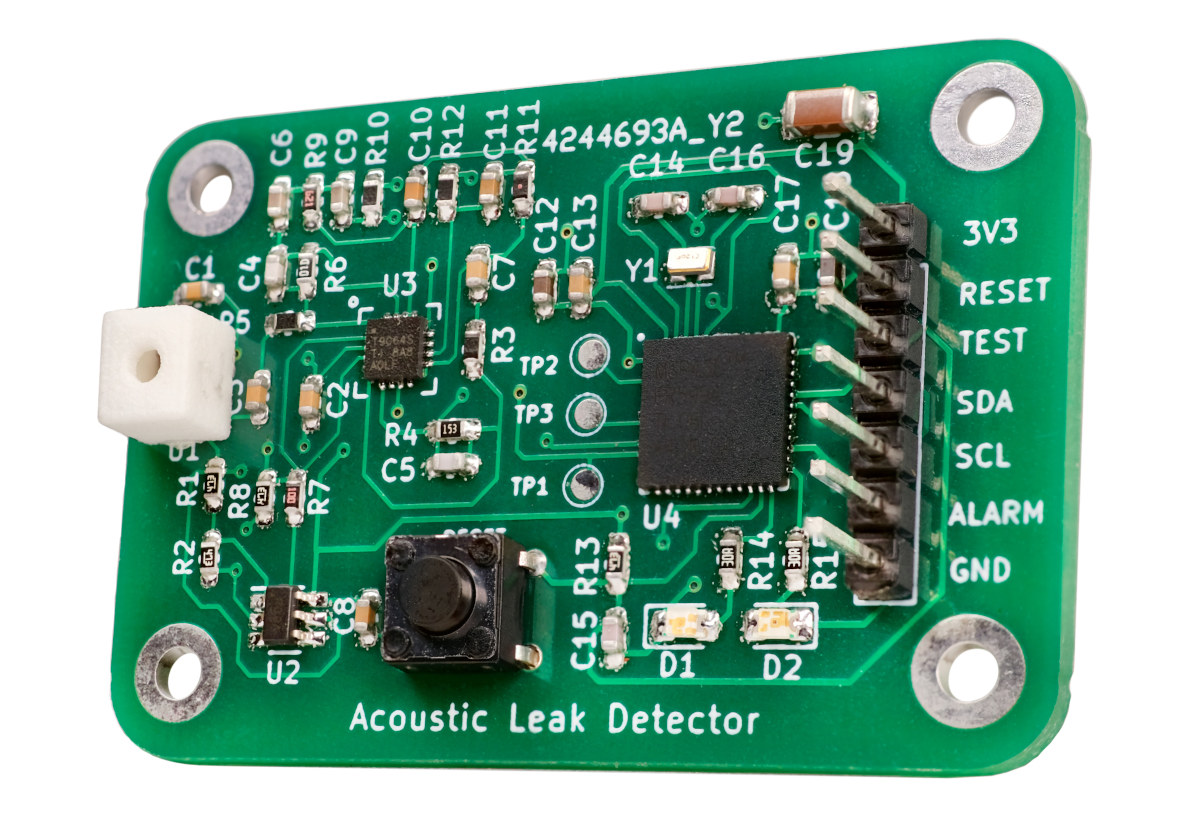 AquaPing is an open-source battery-powered acoustic water leak detection module (Crowdfunding)
The AquaPing is an open-source hardware, ultra-low-power acoustic water leak detector based on the Texas Instruments MSP430 microcontroller and microphone that can detect leaks without having to do any plumbing, instead capturing audio for water leak detection, and it even works for leaks behind walls.
All signal processing and analysis happens on the MSP430 microcontroller, so no sound is streamed to the cloud and eavesdropping is impossible, and the sensor only captures high frequencies out of range of normal conversations, so listening is not possible plus these higher frequencies are also said to provide the highest sensitivity and reliability.

AquaPing Specifications:
MCU – Texas Instruments MSP430FR5994 microcontroller to perform FFT spectral analysis (10 times faster/efficient than ARM-Cortex M0+)
Audio capture – MEMS microphone covered with a small rectangular plastic structure to form a Helmholtz resonator.
Minimum detectable leak rate – 0.01 gpm (gallons per minute) based on standoff distance
Environmental Training Time – User configurable: 10 seconds – 4 minutes
Host connection – 7 pin header with I2C, 3.3V, GND, alarm and test signals
Miscellaneous – Reset button
Power supply – 1.8 to 3.3 V
Battery Life – "Sub-Hz sample rates and exceptional battery life"
Dimensions – 48 x 33mm
As mentioned in the introduction, the project is open-source hardware, and you will find the KiCAD schematic and layout files, the MSP430 firmware source code, an Arduino Sketch example using the Lolin/Wemos D1 mini ESP8266 board as ThingSpeak IoT host and platform, 7-page user guide with design description and I2C interfacing instructions, 2-page report outlining tests with simulated water leaks behind partitions and a short technical brochure on Github.
Aquaping is particularly well suited for under pressure water is leaking from a joint, crack or loose fitting on the plumbing, where high frequency acoustics are emitted, as these signals can travel more than 9 meters in free space and be detected by a sensor placed several meters from the leak. You can see the Aquaping Acoustic Leak Detector module in action in the video below.
Microphonon launched the mod on Crowd Supply with a low fundraising goal of $4,000, but that must be a fairly small niche market, which should explain it. There is only one reward requiring a pledge of $89 for AquaPing to which you must add $8 for shipping to the United States and $18 to the rest of the world.
Jean-Luc started CNX Software in 2010 on a part-time basis, before stepping down as director of software engineering and starting writing daily news and reviews full-time later in 2011.
Support CNX software! Make a donation through PayPal Where cryptocurrencies, become a patron on Patreon, or buy exam samples